It would be nice…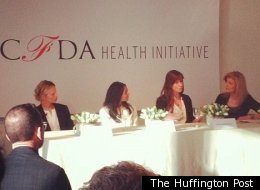 Health guidelines for the modeling industry have been in the works for a while now, starting a couple of years ago with the age limit for models walking in Fashion Week (they must be at least 16 years old). Where Italy, Spain and Brazil have taken it a step farther in terms of having weight restrictions, after Brazilian model Ana Carolina Reston (also known as Carolina Reston), 21, died of anorexia nervosa, in 2007 but American has lagged behind. Vogue Italia editor Franca Sozzani has taken the the issue of weight and body image to the pages of her magazine by making sure that a wider breath of body images are featured in her magazine. However the American fashion industry might be a on the verge of seriously addressing the issue. Yay—(side bar– from this article it doesn't sound like Anna Wintour was there but she sent in a question…if that's the case, why was she not front and center, if she were at the fore of such and important conversation things might actually change, and more rapidly)
Hosted by Huffington Post
The fashion industry has long been associated with images of unhealthy beauty — but with New York Fashion Week just around the corner, some of that may be about to change.
Last month, the Council of Fashion Designers of America (CFDA) released their updated guidelines on model health. They include plans to educate the industry about how to identify early warning signs of an eating disorder, encourage models with eating disorders to seek help, ban models under the age of 16 from runway shows and provide healthy meals, snacks and drinks backstage.
But will the new regulations work?
To begin answering that question, and to take a broader look at the intersection of fashion and health, the CFDA moderated a panel discussion on Tuesday featuring model Karolina Kurkova, jewelry designer Monique Pean, model Elettra Wiedemann, and Arianna Huffington, president and editor-in-chief of the Huffington Post Media Group. CNN's Alina Cho hosted the event, which was held at New York's Museum of Arts and Design, just a stone's throw from where fashion week festivities will be held later this month.
Throughout the discussion, the panelists touched on everything from eating disorders to personal health to finding balance in a pressure-packed world, whether you're in the fashion industry or not. Here, a few highlights:
On body image and the fashion industry…
Growing up, Kurkova says she "was the one who stood out" — and not in a good way. She remembers feeling self conscious of her long, skinny legs, of her height and even of her teeth. Then at the age of 16, she landed the cover of American Vogue, which finally instilled a confidence in her that "being different is OK."
But with that exposure often comes new pressures — Kurkova remembers being told her athletic body wasn't thin enough, while Wiedemann recalled being told in Italy that she needed to have a breast reduction or a nose job.
"The focus on women's bodies is not something new," Wiedemann said. "Bodies always mean more than just bodies."
Vogue editor-in-chief Anna Wintour asked the panel to offer advice for identifying someone who might be struggling with an eating disorder. Wiedemann suggested looking for physical changes, such as a change in the health of hair or skin, as well as mental ones, like inconsistent decision-making or strange eating habits.
PS: do we really believe that Anna Wintour doesn't know the signs of a girl with an eating disorder? come on now!