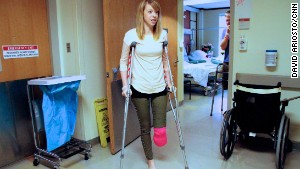 The horror that befell the city of Boston was horrific. The loss of life, the innumerable injuries, the terror that the city was in as law enforcement worked to identify and apprehend the culprits…this IS what terrorism is about, hurting people, and holding people mentally and emotionally in fear. However this story of a young woman who was maimed, who's life is dance,  being able to, for lack of a better phrase- get back up on her feet and basically say that even though she has been changed, she will not change!". Her courage, spirit, and love of life, and her resilience are what no terrorist can destroy!!!!
Meet Adrianne Haslet-Davis a new Body Hero!
hosted by cnn.com
Boston (CNN) — Five feet from where Adrianne Haslet-Davis stood with her husband, a bomb packed with nails and ball bearings was primed to go off.
The couple had joined thousands of spectators in downtown Boston April 15 to watch the city's annual marathon when the first blast erupted nearby.
"There was this silence that came over the crowd," she said as a plume of dust and debris enveloped Boylston Street. "And I thought, 'Oh no, there can never just be one.'"
She was right. Moments later, a second device blew up close to her feet.
The shock wave flung the 32-year-old dance instructor into the air, along with her husband, Adam Davis. Their bodies hit the pavement together, contorted into what felt like a pretzel.
Adrianne Haslet-Davis plans to go from crutches to a prosthetic leg and back to the dance floor.
For a moment, Haslet-Davis lay motionless amid a cloud of dust and mounting panic.
"I think we're OK," she told Davis, recalling later: "I didn't feel any pain and had no idea what had happened."
But as the two tried to scramble to safety, she paused.
"I sat up and said, 'Oh my gosh, my foot. There's something wrong with my foot.'"
Doctors said later the blast had shredded 80% of the bone and muscle on her left foot and ankle.
But right then, she just saw blood gushing and knew she had to act.
"I just went into survival mode," said Haslet-Davis, a dance instructor at the Arthur Murray Dance Studios in Boston. "I have to do something about this," she thought. "I can't lose my foot."
Covered in dust and blood, she crawled on her elbows, pulling herself into a nearby restaurant to wrap the wound.
"Can you help me?" she pleaded, staring up at a few people who seemed bewildered and in shock. "They just looked at me like, 'Oh my gosh,' and then just ran in the other direction."
Her husband, a captain in the Air Force safely back from Afghanistan, was desperate to catch up and crawled into the restaurant after her.
READ THE REST after the JUMP