Before I get in to the whole fashion body image side of this event, let me just say that this was the first Oscars that I have actually watched. Most of the time I check in here or there, but there is a rabid online culture (I'm not a tweeter but a facebooker it's a bit more contained) that makes it interesting (also that 160 characters is difficult, like writing a haiku- to limiting) But I did watch, mainly because there were so many people that I liked, and movies that I actually saw– and there are the people and movies that irritate me so… here is my breakdown:
As I watched the red carpet arrivals the first thing I though was that these women have not eaten in a MONTH (or so). Everyone was so thin, like thinner then the usual thin. In the dance world we say Snatched, but these ladies were SUCKED! IT was kind of scary because you know that the "worked" to be that thin- meaning by any means necessary (not eating/ or not eating certain things or portions to working out to whatever…) some I think – like the nominees have probably dropped some pounds just form the hectic schedule of the award season, but it was startling…
Before that I would like to say that it was so nice to see ABC's Robin Roberts looked DIVINE, it was so nice to see her back on to work and looking so beautiful on the read carpet
Now Let's take a look at some of the actresses from last night, now there were no horrific  fashion moments (unfortunately – that means that everyone was really safe). The thing that was slightly annoying and shows that this sort of tried concept of "being on trend" is making everything cookie cutter boring, was the presence of the ubiquitous side swept Veronica Lake wave! every second woman was wearing that style… that's what you get for being on trend…. but there were some REALLY Great moments:
Jessica Chastain in Armani Privé: A+ and her body looks wonderful  and I love that her hair looks wavy but flowy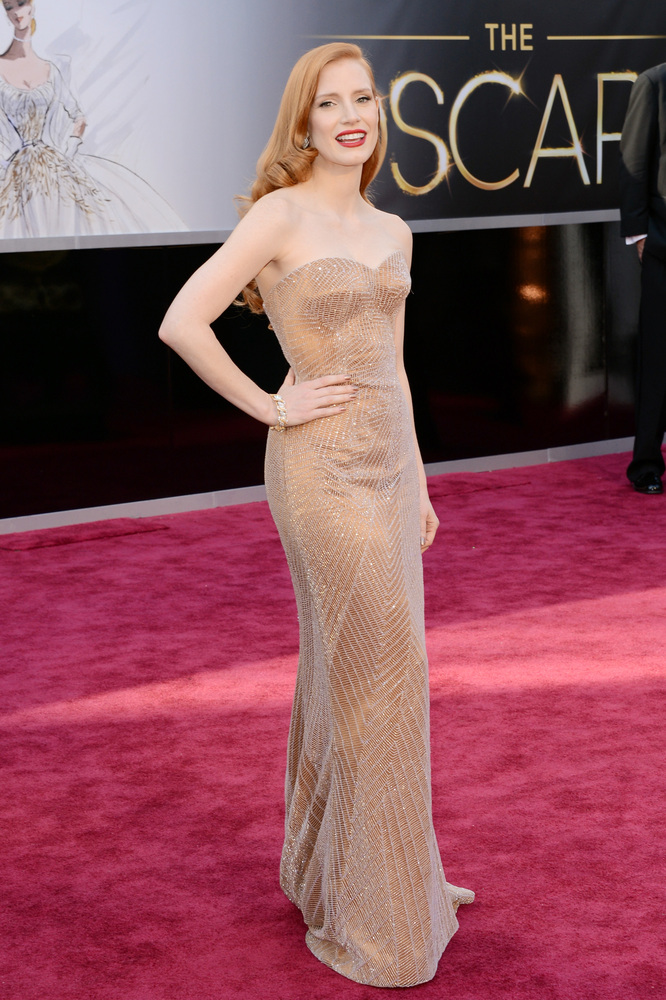 Ann(e) Hathaway in Prada: B+ (but I have to say I am not a fan of her at all) the darts made it look like her nipples were are attention, she looked painfully thin to me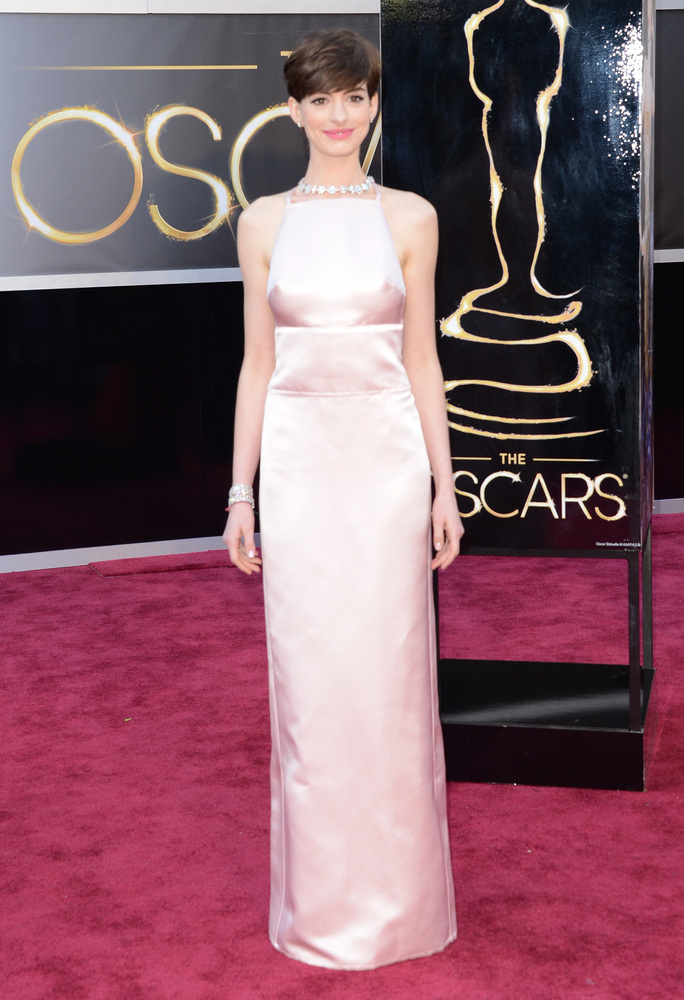 Charlize Theron in Dior: PuuurFection!!! she always gets it right, she looked sucked, but the tailoring on this dress was perfect it looked like a mold on her torso! her hair looks great and her dance performance during the opening showed her ballet training and she has a beautiful port de bras, (and her feet are just sick if you have ever seen them hooks!)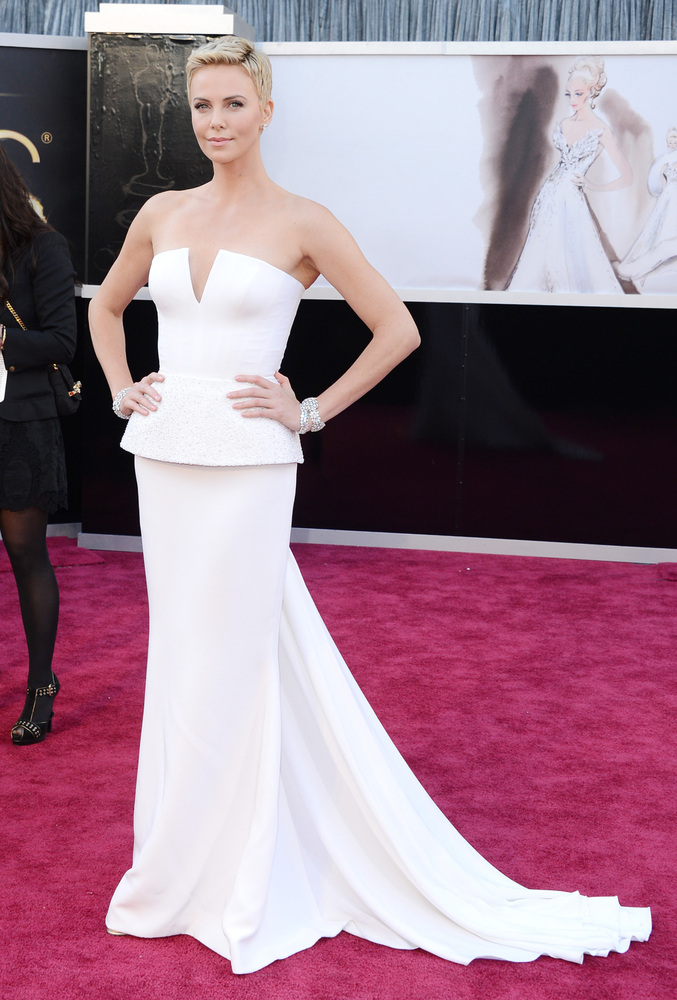 Naomi Watts in Armani Privé: A- I like because it was a bit edgy she was singular and original on this night, she helped to design it. And she looks healthy.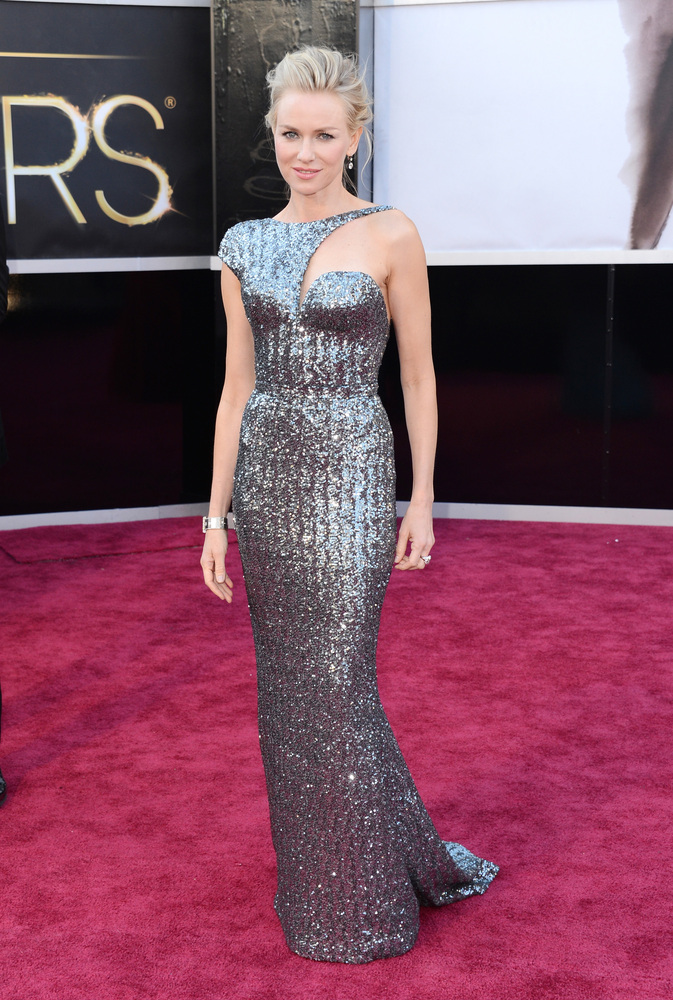 Amanda Seyfried in Alexander McQueen:B and I will tell you why, this was made for her I like it is very understated (not the issue) the issue is that the neckline gaped a bit and it was ill fitting I think someone should have caught that… And she looks HUNGRY! she is a girl that usually carries a bit of a curve, she was very "svelte" last night… she's eating right now!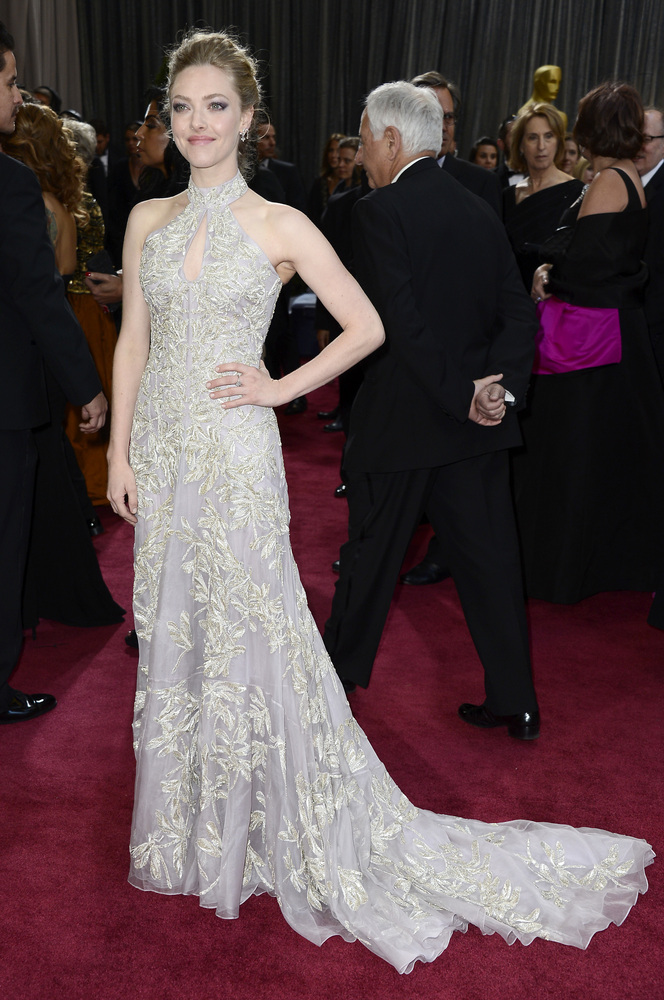 Halle Berry in Versace: A+ she has this made for her she wanted to look like a Bond Girl (because they we honoring the franchise) and it worked it was lovely love the Art Deco design and the shoulders! She is another one that always get's it right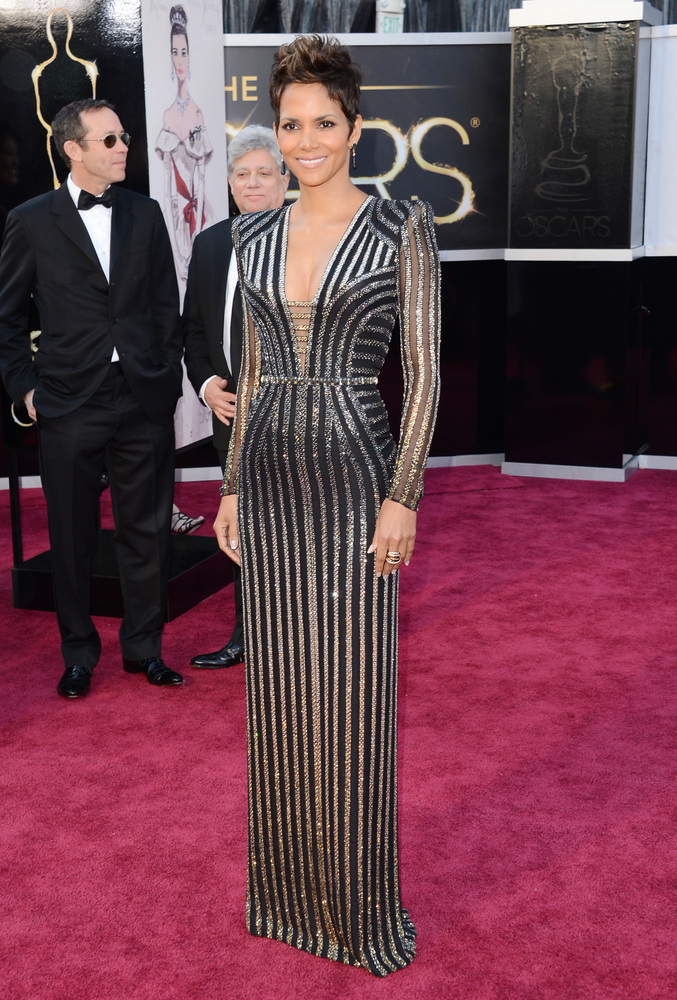 Catherine Zeta-Jones in a Zuhair Murad: B+ It's like yeeehhhh, it's safe. Her hair is wonderful, but here is the thing. Now CZJ is a boxy girl- meaning she has a short torso and, her shoulders, waist, and hips are basically the same width. now she doesn't look terribly thin here, (her structure belies that fact that) she has not eaten in weeks! We know this because when she performed she was SUCKED honey SUCKED!!!
Kerry Washington in Mui Mui: A- now I love Miz Oliva Pope but she was so thin she looked like a Bobble head! let's get real, we just saw her on Scandal in the pool with an overhead shot and there was a bit of booty… butt [sic] not on this night. she looked great I love that dress. Not a fan of the hair but she looked great. She needs a sandwich though…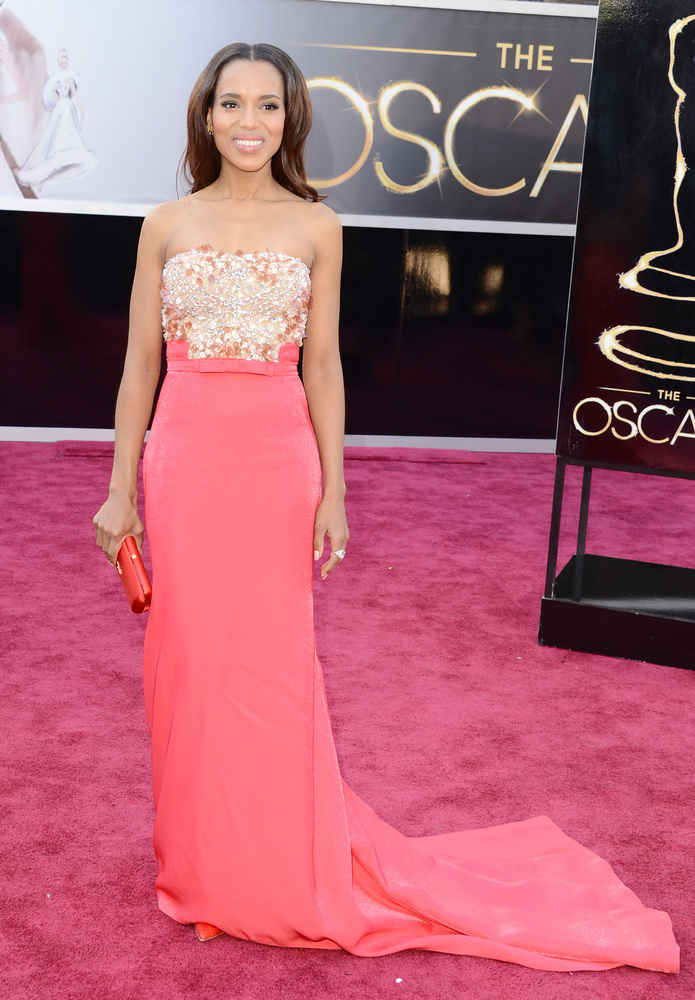 Jennifer Lawrence in Christian Dior Couture: A+ She looked wonderful I loved the way it worked her curves! (ok but that dress nearly took her out, she didn't look like she starved herself either… but wait the after party dress was over look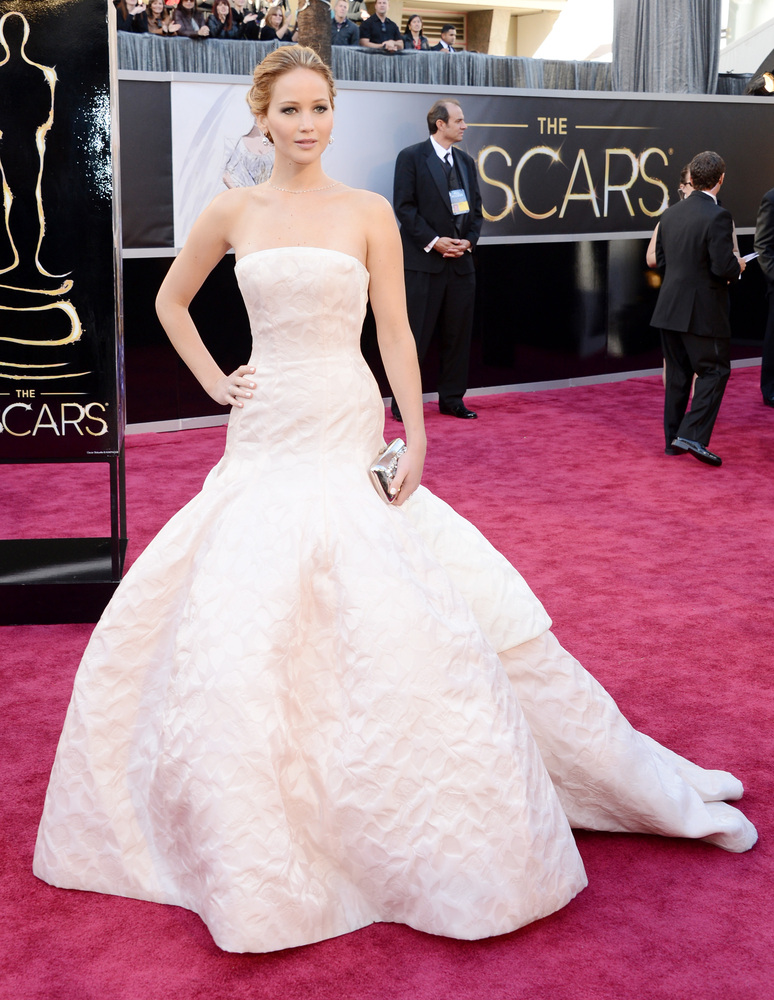 It's major! It's Calvin Klein! I had to throw that in there.
Jennifer Hudson in Roberto Cavalli: A- I love this look, and her  body is looking great, I love that she has stabilized (not too small not to big, like Goldielocks, just right) what does not work for me is the wig… she pulled out the wrong one, some waves would have been nice. But this dress stood out because it was so unlike what the rest of the ladies wore, like Naomi.
Octavia Spencer in a Tadashi Shoji: A+ I loved this! He knows how to create for her, and I loved that he went away from that gathered, ruched waistline I loved the soft classic elegance…. and she is on that Stevia, she has lost 40 pounds, and she looks wonderful.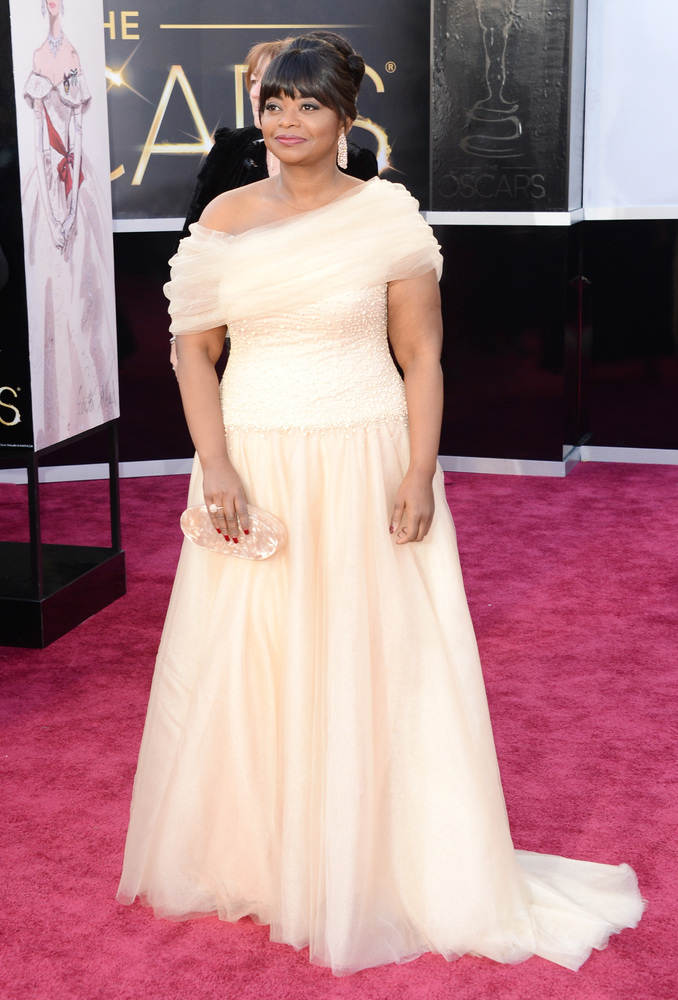 Melissa McCarthy in David Meister:C- Melissa needs to get Tadashi's card! what is this! I don't understand, she has a beautiful waistline, but whoever is dressing her is afraid of it or doesn't know how to deal with it. This is just not flattering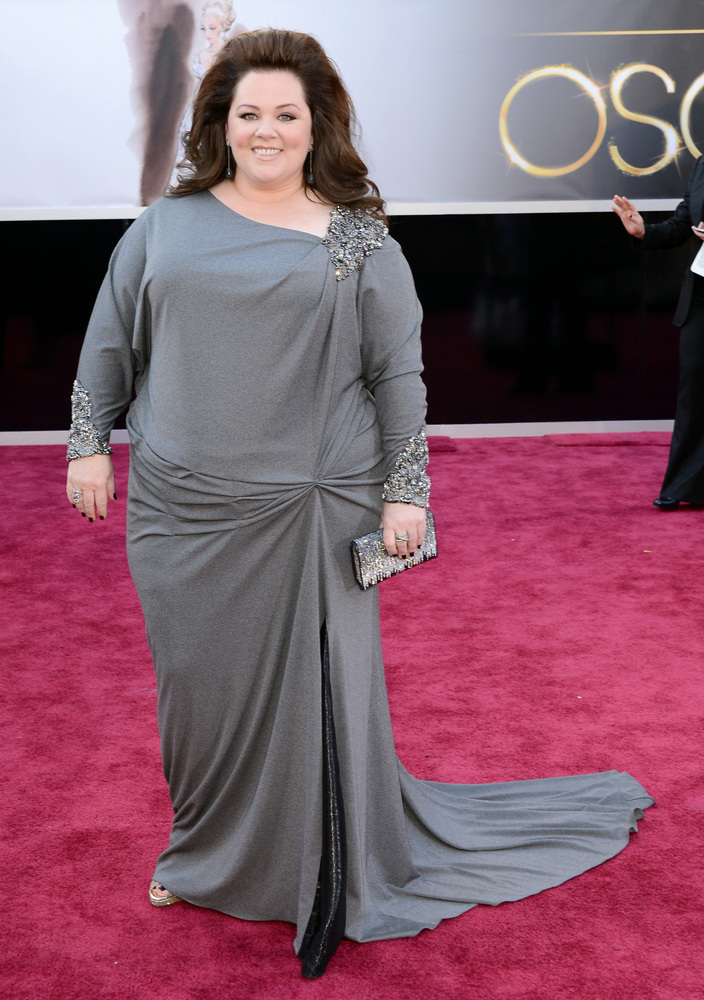 Adele in a Jenny Packham- A – here's the thing, people gave her grief for her Grammy dress (which I loved) but I love this too. I think she always gets it right and her make-up is always flawless!!!– She has a G.O (Grammy/Oscar) she might be playing the Award Scrabble game she needs an E and a T (an Emmy/Tony) to spell EGOT!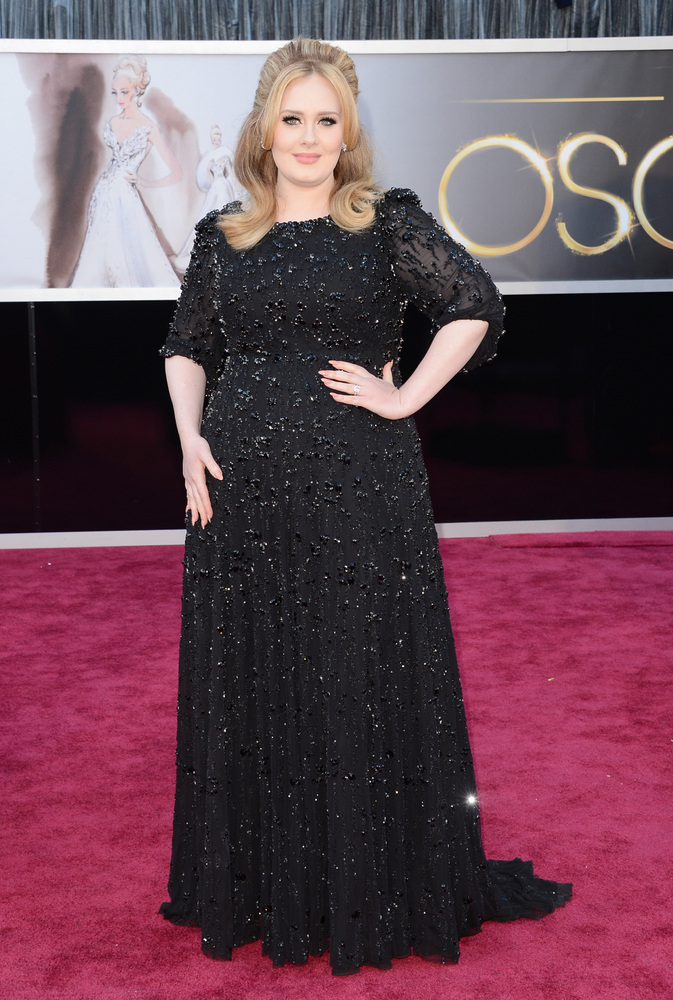 StacyKeibler (w/ Le Clooney) in n a Naeem Khan: A+ I LOVE THIS DRESS!!!!!! (go Brad Goreski – I know Rachel Zoe is going Ba-nan-nas) she looks great I don't like the shape of the hair so much but the dress is OVER!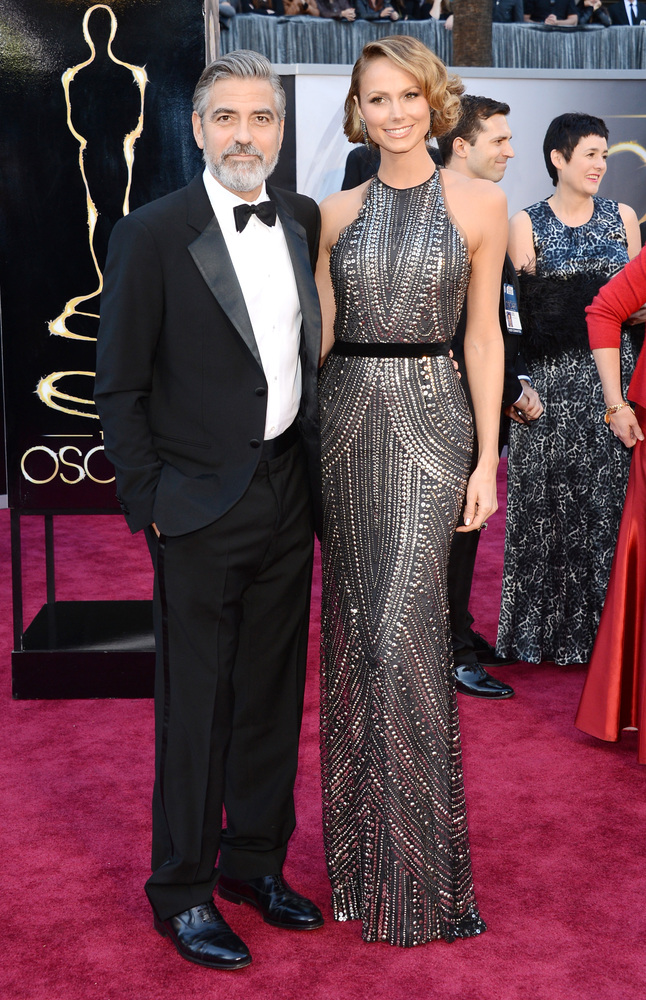 AND the Grand Diva of the NIGHT RED CARPET MOMENT!
Madame Jane Fonda! in Versace – Gradeless! she  was flawless. At 75!! in Canary Yellow!